I have just realised that in one short week I will be into the home stretch of this pregnancy as I enter the third trimester! It only seems like yesterday that we found out we were pregnant again but then in reality that was 5 months ago so I guess time is ticking on without me realising. I am not sure why the transition to the 3rd tri is so monumental; perhaps it's that somehow it brings Beanette's arrival ever closer which is every day more exciting (and more terrifying); or perhaps it justifies why I feel so tired and am finding it so hard to work as hard on my business as I am used to. Whatever it is a milestone and they should never pass without comment.
Since the 20 week scan, just 5 weeks ago, we have transformed the nursery from a spare bedroom (although always referred to as the nursery since my dad saw it and said "it'll be a perfect nursery") into a room fit for our princess. We had decided to go with a Classic Winnie the Pooh theme right from the start but we hadn't bought anything except one lightshade until we passed the 20 week Level II scan, then we went mad!! In the one weekend we bought the cotbed, bedding, pram, changing mat, curtains, decorations and even some babygrows. It was a shock to find out how expensive everything is, but then what is money when it's for our little girl; and of course we are really lucky that the grandparents to be treated her to much of it?!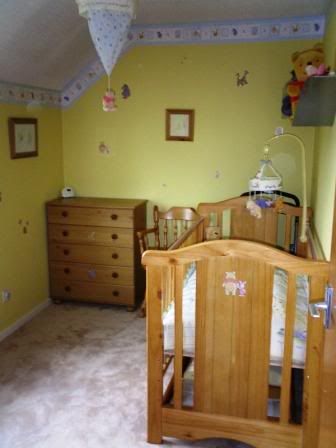 Of course I haven't stopped buying ever since and we now have all sorts of outfits and sleep suits and baby monitors and scratch mitts and hats and pramsuits and towels and even some teeny tiny nappies. All her bits and bobs are neatly hanging in the wardobe or folded into her drawers and I guess sometime soon I should start washing them in readiness. Definitely a 3rd tri job when I finally stop working! Speaking of which I should get on, see you all in the 3rd tri.